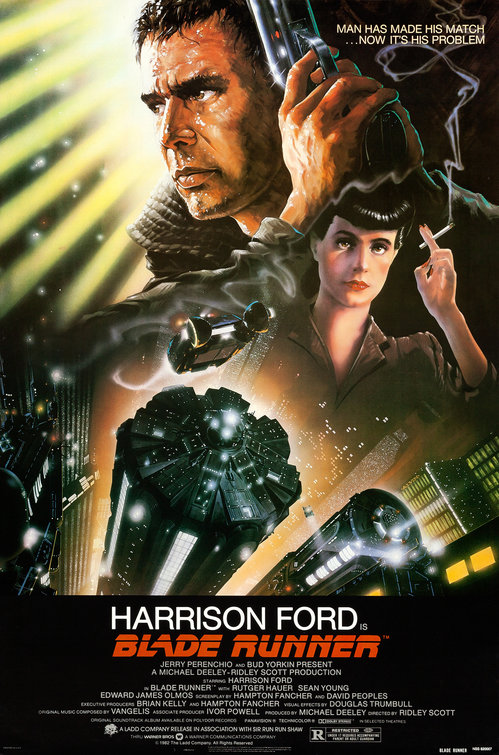 Premissa: Deckard (Harrison Ford), um ex-Blade Runner, terá de perseguir quatro replicants que voltaram à Terra à procura do seu criador.
Veredicto: Para mim, este é, definitivamente, o melhor filme de ficção científica de sempre.
Com uma interpretação incrível de Ford, que o catapultou para o estrelato, "Blade Runner" consegue ser perfeito a todos os níveis. A OST merece todos os elogios, assim como o elenco e o realizador.
"Blade Runner" não é aquele filme de ficção científica a que estamos habituados, é algo diferente, mais profundo, conseguindo um excelente retrato do próprio ser humano, colocando questões que no fundo, todos colocamos: De onde vim? Quem sou? Qual é o meu prósito aqui?
Não o vejam à procura de um entertenimento barato, porque se assim o for, vão ter uma grande desilusão... Mas claro, em termos visuais, também é perfeito, com alguns dos melhores cenários futuristas, alguma vez criados no ecrã de Cinema.
O meu filme de eleição. Perfeito a todos os níveis.
(só espero é que esteja para breve uma edição em DVD com as várias versões do filme... Com voz-off, sem voz-off... e sim, é a Sugestão da Semana) 
(10/10)
Memorable Quotes
Batty: Not very sporting to fire on an unarmed opponent. I thought you were supposed to be good. Aren't you the "good" man? C'mon, Deckard. Show me what you're made of.
[last lines]
[Director's Cut]
Gaff: [voiceover] It's too bad she won't live! But then again, who does?
Deckard: [voice-over] I don't know why he saved my life. Maybe in those last moments he loved life more than he ever had before. Not just his life, anybody's life, my life. All he'd wanted were the same answers the rest of us want. Where did I come from? Where am I going? How long have I got? All I could do was sit there and watch him die.