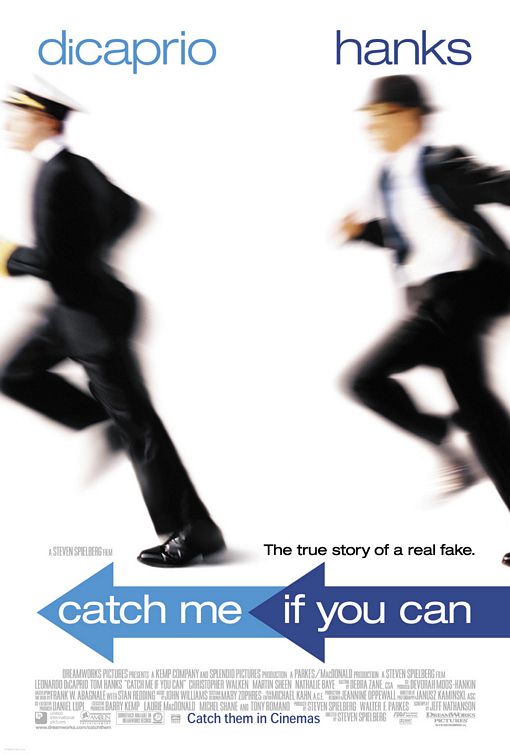 Premissa: "Catch Me If You Can" retrata uma história verdadeira sobre Frank Abagnale Jr., que antes do seu 19ºaniversário conseguiu roubar milhões, fazendo-se passar por piloto, médico e professor.
Veredicto: Conseguindo combinar os melhores ingredientes de romance, policial e thriller, este é definitivamente um filme a não perder.
Com um incrível jogo do gato e do rato, estabelecido pela dupla DiCaprio/Hanks, inicia-se aqui uma das grandes perseguições da história do Cinema, de um poícia por um ladrão.
O espectador consegue ser surpreendido pelo sangue frio e inteligência de Frank Abagnale Jr. (DiCaprio), que engana tudo e todos, conseguindo desempenhar qualquer profissão sem levantar suspeitas.
Com um toque do Sr. Christopher Walken (que onde entra, faz sempre tudo bem, ou quase sempre...), este filme é a minha sugestão para esta semana (deviam estar a questionar a razão desta súbita análise).
Por isso, aproveito para dizer que, quando a minha sugestão for um filme, farei sempre uma análise ao mesmo, mas que as minhas críticas se irão focar mais em filmes que estão em exibição.
(8/10)
Memorable Quotes
Frank Abagnale Sr.: You know why the Yankees always win, Frank?
Frank Abagnale Jr.: 'Cause they have Mickey Mantle?
Frank Abagnale Sr.: No, it's 'cause the other teams can't stop staring at those damn pinstripes.
Frank Abagnale Jr.: Ah, people only know what you tell them, Carl.